Hospitality Sector is a Lively Undertaking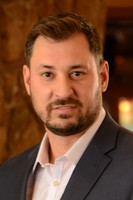 By Meghan Haukaas
Denny Joyal, Managing Partner, Waterfront Beach Bar and Grill
Although he may have begun his career as a funeral director, Denny Joyal now spends his time managing lively businesses in the hospitality sector.
He's breathed new life into the Waterfront Beach Bar and Grill in Regina Beach and is part of management groups with interests in various Regina nightclubs as well as the Lumsden Hotel and Steak Pit. He joined the Hospitality Saskatchewan board of directors in 2016.
Despite his past career experience being in a very different kind of customer service, Joyal had plenty of exposure to hotel operations growing up. His uncle owned the Royal Hotel in Weyburn for 25 years and that helped lay the foundation for his career.
Being part of the Royal Hotel while growing up gave Joyal a certain knack for the industry that eventually led him back to the family business. "There was a point in my life where it made sense to explore the opportunity to work with my uncle and make that change," he said.
After moving to Weyburn, Joyal began helping his uncle with various ownership tasks. He said it was about five years later that they decided to sell the business and move on to their next venture. In 2009, Joyal and his wife moved out to the beachside community and took over operations of what is now known as The Waterfront Beach Bar and Grill. [...]
Government liquor tax hike bender needs to end
Author: Robin Speer , Canadian Taxpayers Federation
If you thought the taxes you paid on your favourite case of beer or bottle of wine or liquor were high today, the Trudeau government is now saying, "Hold my beer!"
Imagine hearing two bartenders whispering about running up your bill. That would probably lead to an animated conversation if not incite some sort of hullabaloo at the bar. But that's exactly what politicians are doing with liquor taxes.
While the federal government is about to binge on a huge and sneaky increase in excise taxes, it's important to know how high liquor taxes already are when all the federal and provincial taxes are added up.
When you crunch the numbers, about half of what you pay for beer is in federal and provincial taxes. It's more than 60 per cent of the retail price for wine and about 80 per cent for liquor.
Picking up a case of beer on the way to the beach in Prince Edward Island this summer will cost you more just in taxes on a case than the total retail price of a case of beer in 25 American states.
That's only one example of how outrageous some of the provincial liquor markup or consumption taxes can be. All provinces have them.
To rub margarita salt in the wound, the sales tax is a tax-on-a-tax added onto your liquor tax bill.
But as if this isn't enough, before your favourite tasty beverage even leaves the manufacturing facility where it's made, the federal government has already been tippling, charging among the highest alcohol excise taxes in the world. [...]
Additional $7.5 Million Boost for Film and Television Grant Program
The Government of Saskatchewan is pleased to announce that additional funding is being made available for the Creative Saskatchewan Feature Film and Television Production Grant Program.

Changes to regulations and additional funding in the spring have greatly enhanced the province's ability to attract larger film and television projects, such as King of Killers: the series, set to start filming soon. [...]

Hospitality Saskatchewan's Jim Bence was pleased to be in attendance during today's announcement that is a huge win for the hospitality industry.
Reminder: CEBA Program Repayment Deadline December 31, 2023
Please note, financial institutions are contacting loan holders with an update from the CEBA Program that outlines specific details on repayment deadlines and forgiveness eligibility, as determined by the Government of Canada.

The Government of Canada has extended the December 31, 2022, repayment date to December 31, 2023, for CEBA loan holders. You will be contacted by your financial institution with details for your specific loan. [...]
Help Shape Certification for Accommodation Professionals
Emerit / By Tourism HR Canada

Join Tourism HR Canada for industry consultations to update its Emerit Professional Certification Programs.
Tourism HR Canada is looking for Directors of Housekeeping and Hotel General Managers to participate in several development activities to update the nationally recognized Emerit certification programs for these two occupations. [...]
New Packaged Tours to Sask Parks Provide Winter Adventures for Southern Sask Residents
Thanks to a new partnership with Engelheim Tours, Saskatchewan Parks is offering packaged bus tours to four provincial parks this winter.

The Saskatchewan Winter Adventures in Partnership with Engelheim Tours provides overnight and day trip bus tours to Cypress Hills, Echo Valley, Duck Mountain, and Buffalo Pound Provincial Parks. It includes unique winter adventures, accommodations, and meals for each guest.

"With our amazing partner Engelheim Tours, we are pleased to offer this exciting opportunity to get out of the city and explore our province," Parks, Culture and Sport Minister Laura Ross said. "Our provincial parks have numerous unique winter programs and activities for all ages, and we are thankful for these tours making it easier for visitors to experience them." [...]
Showcase your support of local as we send hungry burger fans to your restaurant to try your signature burger featuring Canadian beef.
This can be a burger CURRENTLY ON YOUR MENU or a NEW BEEFY CREATION specific for the campaign... it's completely up to you!
As part of 'Burger It Forward', and to support food security and community goodwill:
• Saskatchewan beef farmers and ranchers are helping to 'beef up' regional food banks by donating to local food banks.
• And as part of the national campaign, for every burger purchased, Canada Beef will donate the equivalent of 1 meal to Food Banks Canada*.
*Up to a maximum of 20,000 meals (based on Food Bank's Canada meal metric: $1 = 2 meals)
Used Liquor Store Shelving
Display Your Products on These Reliable Shelving Units
Liquor stores require special store fixtures to display liquor and wine bottles able to display heavy bottle loads. This used shelving is ideal for creating effective traffic flow throughout your store while maximizing the entire retail space.
Obtaining shelves capable of bearing heavy weight is vital for liquor stores and these top-quality metal shelves will do the job efficiently displaying your products.
For further information contact sge@atlashotel.com
____________________________________________________________________________
When it comes to mental health, too many men are suffering in silence. MENtal Health: It's Time to Talk tells the true stories of prairie men – including Chris Beaudry, former assistant coach of the Humboldt Broncos – who have persevered through various mental health challenges. Together, they put a voice to topics including masculinity, mental illness, addiction, sexual abuse, and suicide. These men speak out in raw honesty because they understand that the conversation doesn't start until someone starts talking. [...]
Contact: William Chan, QUASEP Account Manager - Email
________________________________________________________________________